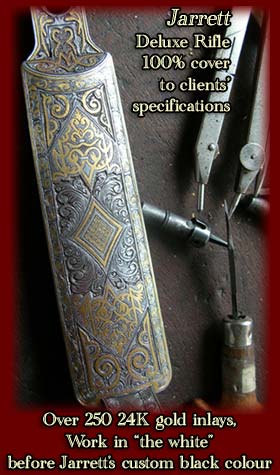 A. B. Bradshaw is a licenced firearms engraver and accepts all long guns and pistols. Master engraving takes time and a peaceful mind. To give the highest finish and most satisfaction to clients, all work is done at his country studio in Toronto, Ontario, Canada. He is a hand engraver, producing works of art in steel and copperplate engraved artistic prints. Restoration engraving and gold inlay replacement on many of the finest guns in the world. Shotgun names like Boss, Boswell, old John Dickson & Son, and Charles Lancaster have all crossed his bench.
Like many old school engravers, including Ken Hunt, Brown Bros., Mr. D. W. Harris, Lindsay, and many Firearms Engravers Guild of America (FEGA) members, he makes his own tools in the time honoured tradition. A history handed down from artist engravers such as Durer, Blake, George Bradshaw and the great Harry Kell and many unknown engravers, in the apprentice style from master to master.
All of these men were inspirational. "I saw Blake's original engravings in the Tate Gallery.", says Bruce. "I studied tools that were hand made in 1860, at the British Museum, trying to learn more. Engraving books are pretty, but a teacher is the old way."
Gun engravers, firearm engravers, jewellery, wood engraving, knife engraving, bank-note engraving, Bulino, in fact all engraving arts, use the same tools and techniques. Belgium chisel work or British "push engraving", and air driven hand tools, are all legacies of many great masters, artists and trade engravers, from 1500 to this day. Indeed early Roman coins were struck with punches engraved by our trade. The historical work on flintlocks and hammer guns, Ithaca's, Remingtons, Brownings, Winchesters, Colts, Rigbys, Purdeys, Holland & Hollands, or many fine German and Italian-style engraved shotguns, whether upgrades, restorations or original work, is all slow hand work. All done to a precision that is almost unbelievably demanding. The highest standards are the goal set by all these past guides, like Nimschke, Bewick and present masters. Apprenticed in 1960s to a German master, Bruce Bradshaw continues today to produce engraving for a screw head or a .577; a true trade engraver.
"I do only engraving, and leave gunsmithing, blueing, checkering, stockmaking to the respective professionals.", says Bruce. He believes, in a trade as demanding as this, it seems better that way. Making masterpieces in steel or copperplate prints, from his early days with Paul Roberts of John Rigby & Co.'s in London, England, to today, the client is always first. "Send it out of the shop better than it came in", his teacher taught Bruce, and he keeps doing it that way.
Deep carving of scenes is a specialty.
Mr. Bradshaw has done restoration and new work for Briley in Houston, Texas, U.S.A.
All of Kenny Jarrett's engraving for his precision rifles. See Photo Gallery for examples.
Has done engraving for master gunsmith Paul Fuchs, Alton, Illinois, USA.
All of British master gunsmith Leslie A. Paul's, restoration engraving and new work.
Engraving for M. K. Owen, of the River City Rifle Company in Moscow, Tennessee, U.S.A., on his big bore doubles and kentucky rifles.
A. B. Bradshaw will complete full restorations or complete original master engraving works, including colouring, blue, French grey, and stock work. New stocks and gunsmith work are all available through associated masters of their craft with whom Mr. Bradshaw has worked with for many years.
All import, export and brokerage, if needed, is handled by A. B. Bradshaw for your convenience. All firearm parts, except receiver, can be sent by air mail or UPS or Fedex directly. Receivers or whole firearm will go through brokers for clearance. Contact us by e-mail for details.
[ Small deeply engraved scenes are a unique specialty of A. B. Bradshaw. ]
"Outstanding job, Bruce. Excellent attention to detail. I could not be happier with your work. Thank you for taking care of me on this. I can't stop admiring the gun and can't wait to get the wood done." --Mark M., Hunter, Pennsylvania, USA
"I like it ALL!... Keep 'em coming! Very exciting stuff!" --Tom
"I am proud of both you and the work done on the rifle." --Richard R. Cousins, Venetia, Pennsylvania, USA
[ Multiple patterned inlays of platinum and gold. The small full relief carving of mountain lion attacking a deer is a specialty of A. B. Bradshaw. The coloring was applied and polished off on the engraved areas. ]
For gunsmiths, private or corporate clients, includes logos, restoration, re-cuts, up-grades, deluxe full coverage original work, shotguns, rifles, pistols, knife engraving, heraldry, raised relief initials, rose and scroll, English, Germanic and American style, gold, platinum inlays, initials in ovals.
Factory style patterns reproduced for Browning, Krieghoff, Winchester, Parker, Fox, Colt, and all makes of shotguns and firearms.
Line engraving, banknote, stipple work or Bulino cut or repaired, rib lettering re-engraved, refreshed in exact style of original. Stainless steel engraved.

Mr. Bradshaw also works making copper engraved prints in the classical bank note style, almost a singular artist in the art world today who still works in this manner. Collectable heirloom full coverage firearms or a small screw head, all are treated equally, with respect and great care.

Engraving instruction arrangements can be made. Contact A. B. Bradshaw Engraver for more information.

Un forum pour la chasse et la pêche /
Hunting & Fishing Forum (in French)

"Wow, UNBELIEVABLE! You have outdone yourself Bruce! It really is 'Magnifico' and I can't wait to show it off! Thank you for all and the pics too!" --Tom, Savannah, Georgia, USA