In 1967, Bruce Bradshaw apprenticed for master steel engraver Harry Markwardt. The time honoured process began, learning to use pencil and paper, disciplined laying lines down without going over borderlines months before getting a real tool. Learning to sweep with the broom also had to be done right; this was old school.

Mr. Markwardt sent Mr. Bradshaw his first apprentice, a cherished compliment, to learn wood engraving. She became a known engraver in Canadian art, as is Mr. Bradshaw.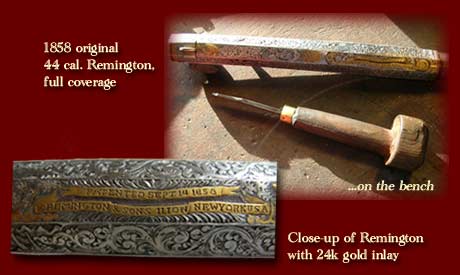 Bruce exhibited in galleries and sold individually over the years. The personal quest for more challenging work in the engraving world was overpowering. Deciding that the intricate copperplate style was his goal, he set out to emulate great masters like Durer and William Blake, who also wrote poetry. Limited edition books were made with copper and wood engravings.
Mr. Bradshaw worked in all facets of engraving. Jewellery engraving, die sinking, embossing dies, silver service initials and varied industrial jobs requiring this skill were done while working his way to London, England and the shop of Paul Roberts. Here it would take two years to come up with the perfect English style of scroll that Mr. Roberts liked. Meanwhile he designed large over-mantel mirrors and did art projects and coats of arms for jewellers.
Working constantly, making samples of scroll, finally Mr. Roberts liked what he saw, then and only then, was Mr. Bradshaw asked to work on 100-year old Purdey, Holland & Holland and Rigby guns that needed attention. He was now in the gun trade for one of the oldest gun-makers in the world.
Moving to the United States, and then Canada, for family, he built his base as it is today. He instructs when asked and produces prints that are being bound into another book. The gun engraving is a deep love and Mr. Bradshaw devotes a large portion of time to his passion for M. K. Owen of the River City Rifle Company in Moscow, Tennessee, U.S.A., Briley in Houston, U.S.A., Kenny Jarrett in South Carolina, U.S.A., Leslie A. Paul, in Oshawa, Ontario, Canada, and the numerous individuals that respond to the A. B. Bradshaw advertisements in The Double Gun Journal.
Bruce Bradshaw continues to have a deep love for the trade that began with a broom, and much attention from his teacher, Harry Markwardt. As Harry said: "No job is too small. Bread and butter jobs keep the trade going." Mr. Bradshaw still honours this philosophy today.
For those wanting to hire A. B. Bradshaw or to receive instruction in engraving, please contact by phone or e-mail to make arrangements. A. B. Bradshaw is a licenced firearms engraver and accepts all long guns and pistols.